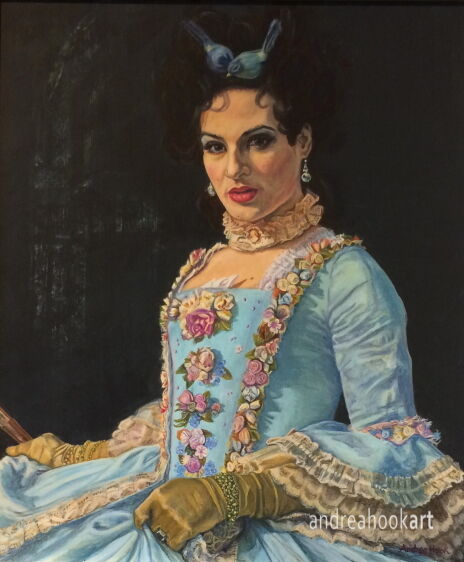 Masquerade, Venice (Unknown Man)
Acrylic on gessoed panel.
Image: 40 x 47 cms
Framed Image: 51 x 59 cms
Professionally framed in a satin effect frame

I was lucky to catch the last day of the Masquerade Festival in Venice one year. It was amazing to see all the costumes and find little tableaux being played out in every corner of Piazza San Marco (St Mark's Square), the canals and alleyways.

This participant was unusual in that he didn't wear the usual full-face mask which hid the wearer's eyes and facial features.
Instead of yards of modern toile, his costume was of exquisite silk with flowers, lace, satin and pearls.
Our paths briefly crossed on a bridge and he happily agreed to pose for a quick photo before disappearing forever back into the crowd.
'Sunshine on a Palette'
Dorset Artist - inspired by nature and the beautiful wildflowers & coast of my home county
Oil & acrylic original paintings
All images © Andrea Hook
Selected for 'The Artist' Highly Commended Online Exhibition 2022
Double selection for 'ING Discerning Eye Exhibition 2020', Mall Galleries
Selected for 'The Artist' category of The Artist and Leisure Painter Magazines' Open Art Competition 2020
Selected for Artists & Illustrators Magazine's Artist of the Year, Mall Galleries Exhibition 2017
Winner of the New Forest Open Art 2015