Empty Shop to Virtual Art Gallery : Update
29/08/2020
Just back from visiting Poole Quay and the Lower High Street.
I managed to get a very rare photo of me - in the Dorset sunshine next to my virtual paintings.
Wishing you a very enjoyable Bank Holiday, hope the sun is shining for you too!
A :- )
Empty Shop at Poole Quay Becomes 'Virtual' Art Gallery!
28/08/2020
A very HUGE thank you to Poole BID, and to all the businesses, agents and landlords who supported dressing this empty shop unit in Poole's lower High Street with some of my coastal images.
It was just completed in the last 24 hours, and I can't wait to see it for real!
A :- )
Winner of POL's 'Flowers & Grasses' Competition: July 2020
08/08/2020
Happy news! :- )
I've won Painters-Online's (Leisure Painter and The Artist magazine) 'Flowers & Grasses' monthly competition for July!
... the email said 'it is a lovely, bright, cheerful painting - just what we all need at the moment'.
Thank you POL and Winsor & Newton for the vouchers!
#SoHappyICouldDoALittleDanceButNextDoorHaveGotTheBuildersIn-
AndTheyMightSeeMe!
SAA Sunflower Project
09/07/2020
30 June is the official launch date of the SAA's new 'Sunflower Project'
I'm feeling very honoured that the SAA asked permission to include my 'Sunflower Butterfly' image in their promotion of this very worthy cause.
They chose the sunflower to head the project because of the way it always turns its face towards the warmth of the sun.
***
The SAA say:
'Unfortunately many of us have lost loved ones during the Coronavirus Pandemic, although they may not all be due to the virus it has still affected how we're able to mourn their passing. We're unable to seek the usual support from our friends and family, or receive a comforting hand or arm squeeze from a friendly neighbour, or even in many countless cases – attend a funeral of one so cherished.
The SAA stands in support of all those left behind and have been working in collaboration with many across the art industry, from artists to suppliers, and even further to bring you 'The Sunflower Project'.
The Sunflower Project is a campaign to encourage people – artists and non-artists alike – to draw or paint a sunflower in memoriam of friends and family lost during this terrible time, in order to create a lasting memorial website. This will give people the opportunity to upload their artwork, creating a gallery of creations to share with the world, and ensure that every life lost during the crisis was remembered and treasured. We are aiming to launch the site in late August.
The site will be free of charge to use and in addition to the artwork gallery, the site will include signposting, advice and support for bereavement and mental health. In addition, we hope to use the project to actively fundraise for the much needed support of those with mental health difficulties. To do this we need to raise £20,000 to build and maintain a dedicated website. Therefore, we are looking to raise money from the public in order to facilitate what should be a really spectacular memorial to our loved ones.
To see more information and donate, please visit the SAA webpage
here
SELECTED for The Artist and Leisure Painter TALP Open 2020!!
18/06/2020
Super, super happy to say that 'The Flower Stall' has been selected for 'The Artist Category' of the 'The Artist and Leisure Painter TALP Open 2020'!!
The full online exhibition will be shown at www.painters-online.co.uk from 10am on 9 July 2020, when the prize winners will also be announced!
Also online this year will be all the usual artist demos and events that are normally held Patchings Art Centre in Nottinghamshire.
So it will be an amazing event, and you are all invited to attend!
... I'm off to celebrate with a cup of tea (it's too early for cider which is the only bubbly we have in the house!)
Ax
Artist Insights Blog for Pegasus Art
23/05/2020
Following last month's win for my lockdown painting on the theme of Home for Artists & Illustrators Magazine, I've been invited to write a guest blog for Pegasus Art.
Click here to read it
(opens in new window)
I think we covered everything in this blog - from the background story to this piece to motivation, favourite art materials and inspiring artists!
Thank you Pegasus Art for the opportunity :- )
Artwork of the Month - Artists & Illustrators Magazine: April 2020!
25/04/2020
WOW! So thrilled to get an email yesterday from Artists And Illustrators Magazine telling me I had won this month's painting competition on the theme of 'Home'!
I've won a fifty pound voucher to spend with Pegasus Art which is very timely as I'm continuing to paint in oils and really need some more fine brushes!
Very big thanks to Artists and Illustrators Magazine and to Pegasus Art! #overthemoon
The whole painting can be seen in my floral gallery
Thank you for looking, all best wishes, Andrea :- )
I've written a blog for Jackson's Art!
10/12/2019
EXCITING news! I've been invited to write a blog for Jackson's Art! (Oh my goodness me!)
Jackson's Art Supplies' Tegen Hager-Suart asked me to write a blog about the Belle Arti cotton canvas boards I use when painting my impasto acrylic and oil paintings.
The blog includes lots of detailed images of my floral and nature-inspired artworks which illustrate my painting process from start to finish.
It's been published (!) and you can read it
here
Thank you for the opportunity Jackson's Art!
Buff-tailed Bumblebee published in Dorset Wildlife Trust's Magazine Winter 2019
10/12/2019
Just how far is this little bumblebee going to go?
Now it's popped up between the pages of Dorset Wildlife Trust's Winter Magazine!
Since painting this bee, and other pollinators, I have become a member of both the Dorset Wildlife Trust and the Bumblebee Conservation Trust.
They are doing such great work to help save the plight of our wildlife and bees.
Thank you for supporting the Dorset Etsy Christmas Fair!
04/12/2019
A HUGE, HUGE thank you to everyone who came to the Christmas Fair at the Allendale Centre, Wimborne, and a very special thank you for every lovely comment, enquiry and purchase of my floral and coastal cushions, cards, paintings, prints and coasters.
It was lovely to meet you all, both visitors and stall holders.
Here's a photo of my stall on the day - I promised you twinkly lights and there were - 5 metres to be exact! ...It's just that my stall was bathed in glorious winter sunshine in this photo and they don't show much! Thank you so much again for supporting your local indie artists/makers/crafters.
Dorset Team Christmas Fair - Sunday 1 December 2019, Allendale Centre,
Wimborne, Dorset
09/10/2019
Very happy to say that my next Dorset Team Artisan Fair will be the Christmas one on Sunday 1 December at the Allendale Centre, Wimborne, Dorset.
Please pop the date in your diary! :- )
Hope to see you there!
Bumblebee painting makes A&I Letters page! November 2019 issue.
09/10/2019
...so I emailed Artists And Illustrators Magazine to thank them for choosing my artwork as 'Artwork of the Month: July' and awarding me a £50 art supplies voucher from CASS ART...
and they have printed my email on their letters page in the November issue (out now)!!!
What a fantastic surprise!!
(so now I just need to thank my Mum for bringing me up to write thank you letters and the Bumblebee Conservation Trust for their id of the gorgeous buff-tailed bumblebee.)
Thank you for supporting the Handmade Wimborne Artisan Fair!
08/10/2019
Just to say a very BIG thank you to everyone who came to Handmade Wimborne on Saturday and supported local makers with a purchase - or a friendly word - or both!
I met some really great new and existing customers as well as some truly lovely stall holders!
If you picked up one of my cards and have just found me here, then welcome!
I hope you will consider liking my facebook page to see news of upcoming stalls and events :- )
You can also find me on instagram - https://www.instagram.com/andreahookart/
Save the date! Handmade Wimborne - Saturday 5 October, 10am - 4pm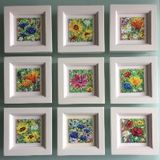 11/09/2019
I am extremely pleased to have a stall at Handmade Wimborne (at the Allendale Centre, Wimborne, Dorset) on Saturday 5 October - so I am now rather busy painting, varnishing, framing and arranging floral and coastal goodies for the day!
I will have super-soft wildflower and coastal cushions; freshly painted mini wildflower paintings; framed and unframed prints plus floral and coastal cards in biodegradable wrap with pastel recycled-paper envelopes.
Hope you can fit the date in your diary.
Pop in and say hello!
:- )
SAA Catalogue & Paint Magazine double feature :- ) 1 of 2
11/09/2019
The SAA Paint magazine & Shop catalogue just landed on my doormat and some of my work features in both publications!
A detail from one of my wildflower paintings is in the Shop catalogue - illustrating the Liquitex heavy-body paints that I use in my painting-knife impasto paintings :- )
and .....
SAA Catalogue & Paint Magazine double feature :- ) 2 of 2
11/09/2019
'A Shadow of My Former Self' (self-portrait in oils on linen canvas) features in a self-portrait article inside the Paint magazine :- )
Feeling grateful
A big thank you SAA, much appreciated!
Exhibition News: Church House, Wimborne town centre, Dorset: August 11 - 18
06/08/2019
'The Bathing Spot' (dust-bath sparrows) and 'In Clover' (horse, cows and birds in the meadow) will be exhibited for sale.
Open 11 -18 August from 11am to 4pm daily.
This week is Margaret Hasted's solo exhibition in the same venue - so why not visit twice!
All paintings in this exhibition are for sale, raising funds for LEAF charity.
Hope to see you there!
:- )
'Low Tide' wins Artists & Illustrators Magazine's Artwork of the Month!
10/07/2019
Really surprised and grateful to see 'Low Tide' win A&I Magazine's Artwork of the Month for July 2019.
A HUGE thank you to the editor Steve Pill and CASS Art for selecting this painting.
It means a lot to me that the figures in the painting are my parents, daughter and husband - although I may now owe them a meal out for being such painterly subjects and inspiring the painting in the first place! :- )
Thank you to all who attended the Spring Fair :-) My next stall is Sunday 1 December - The Allendale Centre, Wimborne.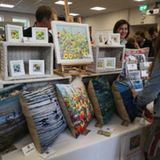 08/05/2019
I am very happy to say my first local Dorset Team event was a huge success!
I really enjoyed meeting everyone - stallholders and visitors - and I had a lot less original paintings, cushions and cards to pack up at the end of the day too!
Thank you to everyone for your incredible support at my first local Fair.
I am very grateful. A special mention to 'Handmade Dorset' for this lovely photo of my stall in action.
I'm really looking forward to the next one I have booked - Sunday 1 December at the same venue! Hope to see you there!
All the Fun of the Fair!
08/05/2019
It was a privilege (and fun too!) to assist a lovely couple at Saturday's Dorset Team Spring Fair, to choose a set of four wildflower original paintings to complement the colours in their home.
And here they are :-)
They also selected some of my wildflower cushions too.
I hope that they all look beautiful together in the new extension!
With many thanks xx
Dorset Team Spring Craft Fair - Saturday 4 May 2019, Allendale Centre,
Wimborne, Dorset
16/03/2019
I'm so happy to have been selected for this Fair for the very first time!
I'll be bringing my Dorset Wildflower & Coastal cushions, cards, notebooks, tins & framed original floral art.
Please put the date in your diary for a brilliant Spring day out:
Saturday 4th May at the Allendale Centre in Wimborne 10am - 4pm. FREE ENTRY!
There will be some really amazing products by over 60 Stallholders
I'm in the SAA Catalogue!
16/03/2019
The SAA catalogue just landed on my doorstep, and I'm included as a featured artist on the Liquitex professional paint page! (page 34)
They chose 'Precious Metal' to illustrate the layering, water-colour style properties of the paint, but it is exactly the same paint which I use neat from the tube and applied with painting knives for my wildflower and coastal scenes.
With grateful thanks to the SAA for including me.
Dorset Wildflower & Coastal Stationery now at Kingston Lacy!
11/12/2018
Delighted to say that my Dorset Wildflower & Coastal Stationery can now be seen in Kingston Lacy's beautiful retail shop in the grounds of this beautiful Italian country mansion. It's the perfect time to visit right now as you will find the house adorned with decorations inspired by the women of the Bankes family. The gardens are open after dark so that you can enjoy enchanted illuminated walks and you can even visit Santa in the laundry! This house is simply stunning and the art treasures inside are equally as impressive too. Feeling very grateful :-)
Dorset Wildflower & Coastal Stationery selected as Local Artist Offer with the
National Trust, Dorset!
02/12/2018
#Overthemoon to say that my wildflower and coastal tins of blank greeting cards, hard cover lined notebooks and single cards, have been selected by the National Trust to be a local artist offer in their Dorset gift shops!
I delivered stock to Corfe Castle yesterday and the shop is looking beautiful!
All dressed for Christmas with the village lights switch-on later that evening.
Also available at Studland's Knoll Beach - if you prefer a coastal ramble before your Christmas browsing!
If you fancy shopping local and skipping the hassle of the online shop (and being out when they deliver) this year, these are two great places to start!
(Just saying...) :- )
Dorset Wildflower & Coastal Cushions are at Seasons Green, Corfe Castle
02/12/2018
Delighted to see my cushions @ Seasons Green in Corfe Castle.
This gorgeous 17th century gallery and artisan gift shop is well worth a visit when you're in Dorset.
Please be aware that this shop is at least twice as big as it appears from outside, so you may not be able to leave without working up an appetite and having to sample a traditional pub lunch in the village - or visiting the National Trust tearooms near by! :- )
Foundry Fifty Competition Win
11/11/2018
Delighted to be one of the winners in Foundry Fifty's stationery competition this Summer.
It gave me the opportunity to see how my painting knife paintings would look on A5 notebooks and printed tins of printed greeting cards.
Thank you Foundry Fifty and Artist & Illustrators' Magazine for making it possible! :- )
Cushions & scarves published in A&I mag's July issue!
14/06/2018
Delighted to have my Jewel Border artwork & cushions published in Artists & Illustrator's latest issue (July 2018) as a follow-up story to last month's selection as Artwork of the Month.
Lovely to see a little sneek peek of the Poppies & Cornflowers Scarf too!
Thanks A&I!
Jewel Border wins Artists & Illustrators Magazine's Artwork of the Month!
16/05/2018
'Jewel Border' has won April's Artwork of the Month - the Editor's pick of the best paintings submitted by Artists & Illustrators' artists!!! :- )
A BIG thank you to all at Artists & Illustrators Magazine and to Pegasus Art for their generous prize of art materials. :- )
Picture credit: A&I
Rum's Eg Christmas Card Winner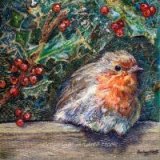 13/12/2017
Really delighted to be one of three winners of Rum's Eg Gallery's, Romsey, Christmas Card Competition!
Rum's Eg held a call for entries for images they could use exclusively for their Christmas cards for 2017 and in return I received a bumper pack of beautiful professionally-printed cards for my own use.
It's a beautiful gallery, cafe and workshop base.
I only wish they were a little nearer to me, I'd be a frequent visitor for sure!
Artists & Illustrators Magazine : 'Social Scene' mention :-)
02/10/2017
Really surprised to turn the pages of a magazine and see my name recently!
Published in August's 'Artists & Illustrators' Magazine is a comment I wrote on my

Facebook page
about my enthusiasm for painting with palette knives!
A very big thank you to A&I Magazine for their glossy print share :-)
... I'd love to know if anyone did swop their brush for a palette knife and gave it a go ...
BTW: Selected for The New Forest Open Art Competition!
08/07/2017
Delighted to say that 'By the Way' has been selected for The New Forest Open Art Competition 2017.
Really pleased to be part of this lovely exhibition in Lyndhurst.
It's the fourth time I've exhibited in this juried competition, so I am really grateful to have made it in this year!
The exhibition opens on Saturday 15 July and runs until Saturday 7 October - it's a really long one this year...we might all be wearing woolly hats again by the end!!
SAA Artist of the Year 2017
22/04/2017
Very happy to have four paintings 'Commended' for reaching the top 200 shortlist for SAA Artist of the Year 2017.
I'll take that as a sign to keep painting then! ... :-)
A&I 'Artists of the Year' Exhibition at the Mall Galleries
23/02/2017
So honoured to have been shortlisted for this exhibition!
The private view at the Mall Galleries last month was very well attended and it was great to finally see the shortlisted paintings for real.
I was relieved to see that my postcard sized painting of 'Orchard, early evening' wasn't the smallest after all!
Photograph shows the editor Katie McCabe opening the event, with my painting in the centre of the trio above her.
There are more photographs from the evening on my facebook page https://www.facebook.com/andreahookartist/.
An extremely big thank you for all your support and votes :-)
Voting Open for A&I 'Artists of the Year' 'Readers' Choice'
26/12/2016
Very pleased to be part of Artists & Illustrators Magazine's 'Artists of the Year' Competition 2017'!
My selected artwork 'Orchard, early evening' is a small palette knife painting of the trees in my
childhood garden.
There will be an exhibition of all 50 shortlisted artworks at London's Mall Galleries in January (23 - 28).
All of the artworks are eligible for the Readers' Choice award, which is decided through online votes from the public.
A&I magazine are encouraging all entrants to ask family and friends to vote.
Please visit
http://www.artistsandillustrators.co.uk/shortlist2017
to view all 50 artworks and cast your vote.
Thank you, your votes are much appreciated - and extra special thanks if you decide to vote for mine :)
Shortlisted for A&I Artists of the Year, Mall Galleries!
23/11/2016
I'VE BEEN SELECTED for Artists & Illustrators' Artists of the Year 2017 Competition!! :)
(can't believe it!)
'Orchard, Early Evening' will be exhibited at the Mall Galleries, London from 23 - 28 January, 2017 - alongside the other 49 selected artworks!
Am I allowed to say that I am really excited??
It is Number 1 on my bucket list to have a painting on exhibition at the Mall Galleries and it still feels like I am dreaming to be honest -
I may just have to print out the confirmation email so it feels a bit more real.....
Exhibition News: Mottisfont, National Trust, nr Romsey
03/09/2016
A BIG thank you to Mottisfont, National Trust, (Hampshire, SO51 0L) for selecting 'Strandline' for their Open Art Exhibition :)
...and for asking to use the image on the publicity :)
.The Exhibition runs from Saturday 1 October to Sunday 13 November 2016.
More information
here.
Update: Sold
A fantastic exhibition and venue - well worth a visit.
Exhibition News: 'Opportunities' at L'Artishe Gallery, Swanage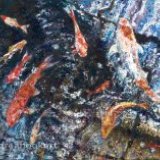 30/08/2016
September is a beautiful time to spend in the Purbecks...so I am really quite jealous that my paintings, prints and cards will enjoy a whole month at L'Artishe Gallery as part of the Opportunities Open.
Running from Saturday 3 September to Friday 30 September, it features work from 22 artists, so it promises to be a very exciting and varied exhibition!
**OPENING EVENT** Saturday 3 September from 2pm - 4pm.
(The perfect time to pop in, enjoy the exhibition, have a drink and meet the artists)
L'Artishe Gallery is at 71 High Street, Swanage, BH19 2LY.
One hour parking along the road from the gallery.
Hope you can visit :)
Winner: Best painting voted by the public at Broadstone Art Society's Summer Exhibition!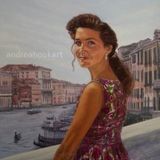 30/08/2016
A very big thank you to everyone who voted for 'Vintage Dress' as their favourite painting.
It's the first time this painting has been exhibited anywhere, so it was really lovely that it was so well received :)
Thanks everyone
Exhibition News: Broadstone Art Society Exhibition: 21 August - 27 August
17/08/2016
Broadstone Art Society's Summer Exhibition will open on Sunday 21 August to Saturday 27 August - from 10 am to 5 pm daily - closing at 4.30pm on the final day.
At the Youth Centre in Moor Road.
There's a special theme of 'People in Paintings', but there is usually something for everyone in this really popular event of original art at very affordable prices!
Hope you can visit :) :) (Tip: Visit early to bag yourself a bargain!)
Exhibition News: New Forest Open Art Exhibition: 16 July - 3 September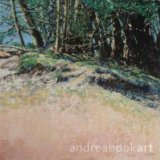 06/07/2016
Feeling really honoured to be selected for the New Forest Open Art Exhibition for the third year running!
The exhibition opens on Saturday 16 July and runs to Saturday 3 September and is open from 10am to 4.30 pm daily.
FREE Entry. It's at the
New Forest Centre
, Lyndhurst, SO43 7NY
Exhibition News: Southampton City Art Gallery Open: 25 June - 10 September
17/06/2016
I have two paintings selected for 'A Sporting Life' which opens on Saturday 25 June in
Southampton City Art Gallery
.
All residents of Hampshire, Isle of Wight, Wiltshire and Dorset were invited to submit their artwork for this summer's selling exhibition - themed around the subject of 'sport and recreation'.
To mark this Olympic Games year, all sporting activities .... walking, running, sailing, football, swimming, climbing or any number of countless activities or diverse sporting pastimes could be included.
Entry is FREE :) Everyone welcome.
The gallery is situated in an beautiful building with 'works covering eight centuries from Renaissance to the present day, but the core of the collection is twentieth century and contemporary Art'.
The current exhibition 'Beasts or Best Friends - Animals in Art' (recently shown at the Russell Cotes Art Gallery in Bournemouth) will be running at the same time as the Open so you can see two for free! ...or three for free if you visit the permanent collection too!
Image: Watching Cowes Regatta (1892), Philip Wilson Steer
Exhibition News: The 17th St Barbe Open: 11 June - 23 July
28/05/2016
Delighted to be selected for St Barbe Museum and Art Gallery's Open Art Exhibition.
Around 90 paintings (which could be submitted on any theme) are in this selling exhibition in Lymington, Hampshire SO41 9BH.
All welcome.
Opening hours & admission fees
St Barbe's Open
Featured Artist with Cowling & Wilcox
14/04/2016
This Q&A interview with Cowling & Wilcox certainly got me thinking about my art from every angle!
With thanks to C&W for the opportunity and for asking such interesting
questions!
Featured Artist with POL: The Artist & Leisure Painter Magazines
07/04/2016
I'm a featured artist this month in Painters on Line's (The Artist and Leisure Painter magazines) regular bonus e-letter.
I was asked for the story behind Vintage Dress for my section.
I really enjoyed writing it.....although it may have taken me longer than painting the picture in the end!!
You can read, skim or skip the article
here...
Exhibition News: Cross Barn Art Exhibition: 23 - 24 April
04/04/2016
I am honoured to be exhibiting two paintings with the Cross Barn Art Artists, (a fantastic group of gifted artists, lead by the super-talented Jamel Akib).This, one weekend only, exhibition runs from Saturday 23 April (10am - 5pm) to Sunday 24 April (10am - 4 pm), and is at the Cross Barn, Odiham, nr Hook RG29 1JX. Don't miss your chance to be served coffee or cake by one of the artists! 10% of artist sales go to the children's charity Barnardo's. Hope to see you there! :)
Exhibition News: Broadstone, Dorset: 27 March - 2 April
21/03/2016
Dates for your diaries: Broadstone Art Society's Spring Exhibition
~ Sunday 27 March to Saturday 2 April.
10 am - 5 pm (4.30 pm on the final day)
The Youth Centre, Moor Road, Broadstone, BH18 8AZ
I will be exhibiting four paintings with BAS this spring.
As usual, there will be a selection of exciting and varied paintings for sale at reasonable prices.
All artwork created by local artists.
There will also be a wide selection of artists' greeting cards for sale.
All welcome :) Free admission, but donations welcome on behalf of Corfe Mullen Scouts.
Self Portrait Article in Leisure Painter: May 2016 issue
21/03/2016
Following The Artist and Leisure Painter magazines' Self-Portrait competition, I was asked to write the story behind my painting for an article - which is published in the current issue (May) of Leisure Painter.
Here is the full length version of my blog (Photo credit: POL):
'A Shadow of My Former Self'
by Andrea Hook
Oil on Linen canvas
16" wide x 20" deep (40 cms wide by 50 cms deep)
On taking up the self-portrait challenge, I chose oils as I hadn't used them for portraiture before. I also wanted to do a conceptual piece so I knew an appropriate title would be crucial. The title came to me first in the end. Someone posted an old photograph from their school days on Facebook, with a shadowy figure just visible through the classroom window. I quipped 'Who's that in the background – a shadow of your former self??' and was about to post it when I thought 'No, I'm keeping that!' An image began to take shape, but I needed just the right photograph of myself as a child to fit the missing piece and a quick scan through the old family album, unfortunately, yielded nothing suitable.
A while later I was attending a family event. It was the sort of do where, later in the evening, an elderly great aunt usually produces an envelope of black and white photographs from her handbag and circulates them around the room. We weren't disappointed. A photograph of me progressed along our table, and I instantly saw the distinctive silhouette that the bow in my hair made. I had found my shadow. My image was complete.
The next weekend I asked my son to take some photographs of me – I knew that after doing the usual Sunday chores - washing, cooking the roast and clearing up – I would have exactly the right expression on my face that I was looking for! I pre-warned him I wasn't going to smile (so don't make me!), flattened my hair in the mirror (made a mental note to apologise to my hairdresser later) grabbed a huge old jumper from the back of the airing cupboard and took a seat. I chose the kitchen table as it is the scene of my daily drama – cyclically exchanging tablemats and plates for table top easel and palettes. I present the photo of the younger me to the viewer to consider this child – with all the hopes and dreams of what she would be as an adult….and I present myself as an adult, wondering who this girl is and what exactly her dreams were. It is a study of the passing of time and the age-old frustration of trying to balance the things you want to do against all the things you have to do first. The clock dominates. It is late in the day; I am (literally and figuratively) 'up against time'.
At face value, it really does appear to be a fairly negative narrative, but I found painting it surprisingly cathartic. Contrary to the implication that I have in some way lost more than I have gained over time, I found plenty to consider and appreciate in my adulthood – countless things to be grateful for and personal goals achieved that I should remind myself of more often, over and above the daily distraction of white noise. So am I indeed 'A Shadow of My Former Self?' Well - if some of my childhood aspirations haven't come to fruition, it is simply because I haven't achieved them….yet!
Commended at Planet Art: PEDAS Open
28/11/2015
Delighted to be awarded one of the Commended prizes at today's Planet Art Open private view at The Gallery Upstairs, Upton Country Park.
The Planet ART Open was designed and organised by PEDAS to run alongside the current 'United Nations Climate Change Conference' in Paris, and requested artwork, sculpture and prose from artists in response to this issue.
The statement I submitted in support of this work was:
Strandline (High & Dry):
'For all our supposed intelligence, if we fail to act on climate change - with the associated extreme weather conditions, rising sea levels and exceptional tides - we will find ourselves adrift and marooned like flotsam and jetsam on the strand line. Our presence on this planet could be as fleeting as the footprint on the sand.'
A BIG personal thank you for the amazing number of compliments I have received - both personally and on Facebook - in response to this painting, and for 'Daisy Chain' which was also accepted into the exhibition.
And the Winner is...New Forest Open Art 2015: First Prize
09/07/2015
Eyeworth Pond, nr Fritham, New Forest' has been awarded first prize at the New Forest Open Art Exhibition at the New Forest Gallery, New Forest Centre, Lyndhurst. SO43 7NY.
Wow!
A big thank you to the judges, the New Forest National Park, the Centre and all their volunteers and Exxon Mobil. There's lots of gorgeous artwork there, many of which would get my vote for my favourite artwork. You have until Saturday 12 September to visit and vote for the one you think is your favourite!
'Sunshine on a Palette'
Dorset Artist - inspired by nature and the beautiful wildflowers & coast of my home county
Oil & acrylic original paintings
All images © Andrea Hook
Winner of the New Forest Open Art 2015
Selected for Artists & Illustrators Magazine's Artist of the Year, Mall Galleries Exhibition 2017
Selected for 'The Artist' category of The Artist and Leisure Painter Magazines' Open Art Competition 2020