about
I've painted and sketched since early childhood and my favourite place was the garden, amongst the old fruit trees and raspberry canes.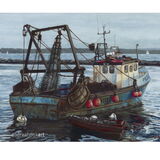 I was lucky to grow up near the coast in a family with a long association with the sea, and I am very proud to say that my paternal great-grandfather was a bowman for the RNLI, Poole. I vividly remember spending hours at the Old Fisherman's Dock, watching the fishermen mending their nets whilst my parents got the wooden dinghy ready for a trip to the beach or around the harbour islands.
As a student, I studied for a degree in Visual Arts & Geography at Lancaster University and I worked as an illustrator and graphic designer in studios in London and Dorchester. One dream job was illustrating the natural-history information boards for Dorset County Council, which were displayed throughout the county. As I wasn't allowed to sign my illustrations, I used to draw a particular little bird as my signature - but this idea rather backfired when I was asked to create a board on the Jurassic Period!
Having children opened up a whole new world to me. A need to paint my children's portraits grew into a passion to paint on a larger scale and to paint whenever and wherever I could. As a thank you to two of my children's infant schools, I voluntarily painted jungle animals on the hall windows in one and frogs in a pond in a reception and corridor in another. I also designed & painted scenery for several combined secondary school productions as well as a floor to ceiling beach mural on an office wall.
Outside of work, I sold my paintings via galleries and exhibitions and I entered Open Art competitions.
The full list is here:
events:awards
but two highlights from those 'juggling' years were: Winning the New Forest Art Competition, 2015
(youtube)
and being one of just 50 artists in Artists & Illustrators Magazine's 'Artist of the Year 2017' at the Mall Galleries, London. It fulfilled an ambition to exhibit in this prestigious gallery, and it was especially moving that the selected painting was of the old fruit trees in my childhood garden.
I'm mostly inspired by coastal and figurative subjects, as well as the wayside flowers which I love seeing at the side of the road near my home. I find them so uplifting when I pass them. I usually paint these flowers in impasto paint applied with a painting knife on panel and I was delighted to be invited to write a blog on my process for Jackson's Art, which you can read
here.
Over time I was intrigued to see how these joyful impasto paintings would look on fabric, so I found a UK company to make beautiful, faux-suede cushions from my floral & coastal artwork. They are now stocked by Seasons Green, the stunning seventeenth century gallery & artisan gift shop at Corfe Castle, Dorset.
Seasons Green also have a selection of my mini framed wildflower paintings, totes and coasters.
My cards are at local Dorset National Trust shops: Corfe Castle; Studland Beach and Kingston Lacy. They have recycled envelopes and bio-degradable (potato starch) cellulose sleeves. All the images are inspired by the wayside flowers and coast close to my Dorset home.
New Beginnings 2020
I'm finally painting full-time!
I'm now using oil paints applied with brushes on gessobords, cotton canvas panels and stretched canvas and I have rediscovered watercolours. While we were all home-based, I started with a series of home-inspired artworks, including garden views, the contents of my kitchen cupboard and favourite photos from my previous travels.
April:
I was really grateful to have my lockdown painting 'Through the Square Window: Lockdown Day 20' selected as the winner of Artists & Illustrators magazine's 'Artwork of the Month'. Pegasus Art asked me to write a blog about this painting and my art (May 2020) which you can read
here
.
June:
I am delighted that my painting 'The Flower Stall' was selected in 'The Artist' category of 'The Artist and Leisure Painter TALP Open 2020'. It's such an honour to have been included in the top 70 works in this professional artist exhibition.
July:
More amazing news, I've won Painters-Online's (Leisure Painter and The Artist magazine) 'Flowers & Grasses' monthly competition! Big thanks to POL, Art Safari and Winsor & Newton for providing this fantastic opportunity.
August:
I'm feeling very privileged that I was invited to submit some of my coastal images to dress an empty shop unit near Poole Quay. Generations of my family, including my great-grandfather, would have known this area so well, as they lived and worked here. I am very grateful to Poole BID, the landlords, local businesses and agents who made this possible.
October 2020:
I was delighted to find out that BOTH my submitted paintings were selected for this year's ING Discerning Eye Exhibition - which is normally held at the Mall Galleries, London but this year was online only.
Beverley Knight chose 'Better With or Without?' and Mervyn Metcalf selected 'A Shadow of My Former Self'.
Both paintings can be seen in my
portrait
gallery.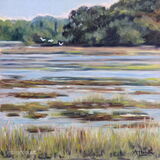 To date:
It's now over a year since I've become a daily painter and the list of subjects I want to paint is being added to - faster than I can paint them and tick them off! Although I tend to paint in mini-series of florals, coastals and figurative works, I've recently noticed that most of these subjects share the feature of being bathed in sunshine.
I hope this makes them happy and uplifting paintings to look at - all year round.
My work has been selected for exhibition at the following galleries & Open Art Exhibitions:
The Mall Galleries, London: ING Discerning Eye Exhibition
The Mall Galleries, London: Artists & Illustrators Magazine: Artist of the Year
Patchings & The Artist Magazine: Artist of the Year
Menier Gallery, London: Coloured Pencil Society Open
RBSA Gallery, Birmingham: Coloured Pencil Society Open
Lynhurst Centre: New Forest Open (Winner)
St Barbe, Lymington
Southampton City Art Gallery
Mottisfont, NT Nr Romsey
Poole Museum
Walford Mill, Wimborne
Upton Country Park, Poole
To see my latest paintings, works in progress and news, please follow my
Art Facebook page
Available paintings are often posted there first
Thank you so much for visiting
The very best of wishes
Andrea
:- )
'Sunshine on a Palette'
Dorset Artist - inspired by nature and the beautiful wildflowers & coast of my home county
Oil & acrylic original paintings
All images © Andrea Hook
Double selection for 'ING Discerning Eye Exhibition 2020', Mall Galleries
Selected for 'The Artist' category of The Artist and Leisure Painter Magazines' Open Art Competition 2020
Selected for Artists & Illustrators Magazine's Artist of the Year, Mall Galleries Exhibition 2017
Winner of the New Forest Open Art 2015